Fridge Repair Services in London
Best fridge repair technicians in London and the surrounding areas
Fridges are an essential appliance for any home, allowing users to store food for extended periods of time. When a problem with the fridge arises, immediate action should be taken to prevent further damage or inconvenience caused by not having access to a functioning fridge. Schedule your repair service online that can help you quickly find the perfect repair specialist to bring it back to its former glory. When you're in need of fast and reliable assistance with your fridge, call Max Appliance Repair!
Why Choose Us For Fridge Repairs
Max Appliance Repair offers same day service for speedy fridge repairs.
Our team arrives prepared with parts and tools to perform repairs on the spot.
We prioritize customer needs in terms of price, speed, and professionalism.
Our knowledgeable team has extensive experience working on all types of fridges – from the most popular models to those that are hard-to-find. And rest assured: no matter what kind or size problem is causing trouble for your appliance, we'll have a solution ready before you can say "cool"!
Reliable Fridge Repair Services
Max Appliance Repair is a family-owned business that truly cares about its customers. We know how important having a dependable fridge can be, so we strive to provide fast and accurate repairs, extending the life of your appliance with meticulous attention to detail.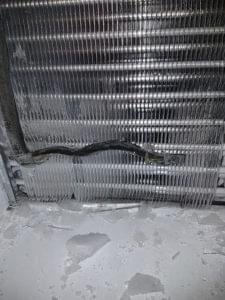 Fridge Repairs throughout London and the surrounding areas
Max Appliance Repair offers the best possible repair service for your home appliances. Our renowned technicians are dedicated to providing fast, reliable assistance and always keeping our customers' needs first. No matter where you're located in London, we'll be there when your household appliance breaks down – whenever that may be!
Fridge Repair Experts Near You
Maximize the performance of your fridge with Max Appliance Repair! Our highly-skilled team is always dedicated to providing trusted, reliable repairs for any brand. Invest in a lasting fix and give your fridge its best chance at top efficiency—because it deserves nothing less than exceptional care from us.
Most Common Fridge Problems
Storing your food and drinks has never been easier with a fridge, yet keeping them cool requires more than just plugging it in. As parts get worn out or break over time, they can start to affect the performance of your machine – leaving you wishing for chillier water and colder foods! Before that happens though, here are some common problems you should look out for:
Water dispenser is not working
Motor can stops working
Temperature fluctuates
Cooling Issues
Ice isn't coming out of the ice maker
Your fridge is making loud and/or strange noises
Your freezer is cold but your fridge is warm
Your fridge is leaking
Food in your fridge is starting to freeze
There is ice build-up in the freezer
Freezer is not cooling properly
Fridge doors not closing properly
Ice maker is broken
Broken freezer
Fresh food compartment warming up
Ice maker overflowing
Running into fridge issues? Don't wait – get help now! Our experts are here to diagnose and fix any problems so you can get back to your regular routine.
Call our qualified fridge repair experts today: (226) 840-6671
Fridge Brands We Can Repair
Our technicians are well-versed in the diagnostics of different brands and models — have experience with all types of fridge issues — from faulty door seals to temperature control problems. With our pocket friendly rates and years of experience in the field, you can trust that Max Appliance Repair has got your repair needs covered!
We Repair Appliances All Across London
Our same day service all across London means that you don't need to deal with long wait times or high prices.
Fridge Repair Questions
Given the essential function of your fridge, it's always best to call a professional repair technician sooner rather than later. When repairs are necessary, you might have a few questions. Here are some of the most commonly asked questions and answers.